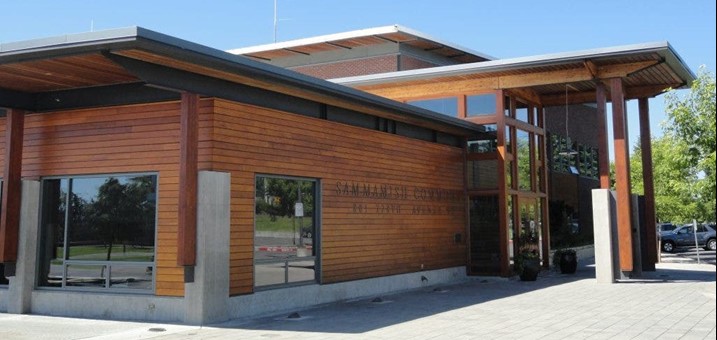 Sammamish City Hall is open for in-person services
The City of Sammamish offers both in-person and virtual services.
Service Appointments
Information on service appointments can be found below. 
COVID-19 Precautions
Visitors to City facilities are encouraged to wear masks, but it is not a requirement. Hand sanitizing stations, as well as increased cleaning procedures, are in place. 
Address
The Sammamish City Hall opened in July 2006. It is located high atop the Sammamish Plateau, at the intersection of 228th Ave SE and SE 8th Street. 
City of Sammamish
801 228th Ave SE
Sammamish, WA 98075
Phone: (425) 295-0500
Fax: (425) 295-0600
M - F, 8:30 am - 5 pm (Permit center closes at 4 pm)
Driving Directions
From Issaquah / I-90
From Eastbound I-90, take exit #15 (Lake Sammamish State Park).
Turn left and go over the freeway onto the Renton/Issaquah Road. This road becomes SE 56th Street. Follow past Costco, the Fed Ex depot, and the 76/Brown Bear station.
At signalized intersection of SE 56th and East Lake Sammamish Parkway, turn left onto E. Lake Sammamish Parkway.
After about a mile, turn right at the roundabout onto SE 43rd Way.
Continue about 3.5 miles. SE 43rd becomes 228th Avenue SE. It continues about 2 miles to a signal at the top of the hill, at SE 8th Street.
Turn left into the City Hall parking lot.
From Redmond / SR 520
Follow Eastbound 520 to the SR 202 Redmond/Fall City Road Exit.
Turn right at the end of the exit.
Follow SR 202 east approximately 2.5 miles to a signalized intersection at Sahalee Way.
Turn right onto Sahalee Way.
Continue over hill and past the Sammamish Highlands Shopping Center. Continue 2 miles beyond to the signal at SE 8th Street and 228th Avenue SE.
Turn right into the City Hall parking lot.
Leed Building - Silver Level
The Sammamish Commons project is designed to comply with a Silver Certification level according to the U.S. Green Building Council's Leadership in Energy & Environmental Design (LEED) Rating System. Details on the LEED program can be found here.
An informational brochure about the Sammamish Commons and City Hall project can be viewed here.
For information on King County green buildings click here.